Welcome to the Gabriola Soccer Association's (GSA) website, our online resource for kids and parents involved with, or looking to get involved with, Gabriola soccer for kid ages 5-16.
On the site you'll find up-to-date news, team information (when teams are decided), registration details, schedules and more. If you can't find what you're after please feel free to contact us.
Teams
Once the roster breakdown has been decided upon for the year we'll post the team splits and coach contact information here.
Registration
You can register your child online, or offline via our printable form.
View our Registration page for full details including possible available financial assistance and our Codes of Conduct and Team Selection Guidelines.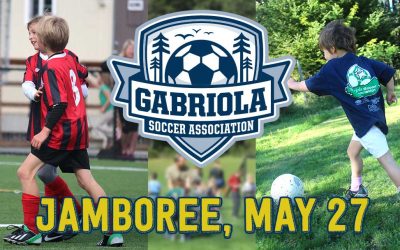 Join us on May 27th from 1- 4pm at the Gabriola Elementary School soccer field for our annual Soccer Jamboree! Bring the whole family to enjoy fun games, free hot dogs and hamburgers, a gear swap, plus a chance to meet the executive. You'll also be able to register...
read more
PAYING FOR FEES:  Please note that the Gabriola Soccer Association will never turn away a child who wishes to play, due to inability to afford the fees. Programs such as Jumpstart and Kidsport have helped Gabriola families in the past with affording registration fees. Please talk to us or you can contact both programs here at www.jumpstart.canadiantire.ca or www.kidsportcanada.ca